Friday, March 13, 2009
Last night was our first Pinewood Derby. I learned about the event not even 24 hours before it took place. My son has never really been to cub scouts before, but I, in my this-will-be-such-a-great-opportunity-for-my-son-and-it-only-comes-but-once-a-year mindset, mandated that my husband help him get ready to participate despite his strong and very vocal opinions not to. Did I nearly admit that I was wrong? Lest I give into temptation... onto the races...


Despite my best efforts to apply my new Fishful Thinking knowledge on the power of positive parenting, Red Rover had a complete meltdown during the welcome section of the event. Apparently, shaking hands came too close to "ruining" his car! Oh! My! This was going to be a long night.



But then, his name was called. Lane 1 was his. And, he was able to put aside his fears of losing, people watching him and him getting embarrassed, and not having the right uniform to focus on the task at hand—racing!



Vroom! Vroom! Isn't this fun? That was our goal after all: to have fun!



Ah! Oh! Red flag. Last place! Remember, Red Rover, this was one of the problems we discussed... one of the things that may get in the way of you accomplishing your goal. What's the work around, buddy? Come on... Fishful Thinking, work your magic for this parent! Help me help my son achieve his goal to have fun even though all he really wants to achieve is to become a rock star and grow his hair out LOL!



Score! One of the work arounds to the problem of losing was to focus on the treat. After all, everyone loves a little sugar. And surely enough, the motto "Alls well that ends well" is true!

One derby down and, what?, 10 more years in Scouts to go? Oh! My!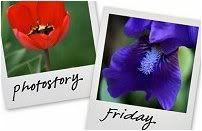 Hosted by Cecily and MamaGeek