Thursday, June 4, 2009
Blogging is a great form of therapy. While I don't necessarily want to delve into why I need it today, let's suffice it to say I've moved. There. I'll leave it at that.

But, something great has happened in spite of the move... or rather because of it. I know this picture shouldn't really bring a smile to anyone's face... and definitely not a shout for joy... especially from the person who is in the picture. But, I thought I had lost this. And finding it was a welcome surprise! Why?

This picture was taken after I had 42 staples removed from my head in 1993. I suffered an epidural hematoma and a fractured skull. Somehow, looking at this picture reminds me that life really is one big roller coaster ride with lots of ups and downs and that through it all, the lessons I've learned have all been worth it. This picture keeps it all in perspective for me. There's a lot to learn... even in the toughest of times. It's all about remembering that in the midst of the rough patches, right? Like today!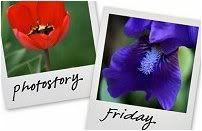 Hosted by Cecily and MamaGeek