Tuesday, August 26, 2008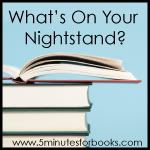 I am using this post to spread the news about "What's On Your Nightstand"--a virtual book club. On its website (click button to link there), it says:

If you're here, it means that you like books. You may read at the expense of housework and childcare (guilty!), you might not read as much as you want to, or you might have found that perfect balance between real life and the escape between the pages.
On my nightstand sits a whole library of Barbara Kingsolver's book. I just finished reading one of her pieces of fictional literature, The Poisonwood Bible. I feel like a late bloomer. So many people have recommended it to me over the years, but for whatever reason I just now got around to reading it. Apart from the fact that Kingsolver is simply an amazing author, this book is dynamite for too many reasons to count.
On a basic level, I love how she organized the book in chapters named after each child or parent. Her ability to switch tones and personalities within and between chapters is astounding. The use of multiple narrators provides a depth of perspective that, as it were, puts you right in the middle of an American's life in the Congo. And on that note, the thing I liked the most was the subject matter. I have lived in third-world countries and have experienced--either in thought, through action, or through observation--some of what she voices and describes.
Most poignant to me was reading this while on vacation in D.C. The stark contrast between the freedom we enjoy in the US and our over abundance with the Congo's political upheaval and scarce resources shows that there is beauty in all walks of life and you really do have to stand in someone's shoes to understand their perspective.
So now, the question is: What is on my nightstand? All the rest of Kingsolver's books. The day after putting down this one, I ran over to B&N and purchased her entire library and am now starting into The Bean Trees. I am sooooo excited.