Monday, October 20, 2008
What Is Girl's Night Out (GNO)?

Things are hot Tuesdays at Twitter. At last week's Mommy Gossip—GNO (formerly known as Twitter GNO), nearly 80 gabbing girls joined the soiree from New Zealand to New Jersey and beyond, sending 140-character messages at 230+ tweets per minute. This included Twitter newbies and veterans alike.

Didn't get in on the action? Want to shoot the breeze with other mommies about anything other than Elmo? Want to get to know some of your favorite bloggers and chat with them real time? Whether you are a mom, mom-to-be, a grandma, or just love all things mom, Mommy Gossip—GNO is the place for you.

What Is New to GNO?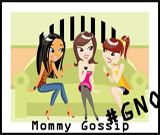 Be one of the first to see Mommy Gossip—GNO's makeover by visiting the official Mommy Gossip—GNO blog. This blog is co-hosted by Carissa at GoodandCrazy and little old moi. (Did I just say I was little AND old?)

Until we are completely moved into our new digs, you will still need to sign up on one of our blogs using Mr. Linky. Please remember to use your twitter name and your twitter URL (e.g., http://twitter.com/jyl_mommygossip) and not your blog URL.

What Is Tuesday's Twitter Topic?

Each week, we choose a topic or two to discuss during Girl's Night Out in case we run up against one of those 7-minute lulls in the conversation. (Yah! Right!) This week's topic is Travel, hosted by travel guru Michelle Duffy of Wandermom and Lipstick. Learn more about her, the chosen topic, and her giveaways (Yep! There will be giveaways), by visiting Mommy Gossip—GNO.