Thursday, November 6, 2008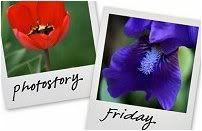 Hosted by Cecily and

MamaGeek
When I became a mother for the first time, one of the most important things on the long list of things to teach my child was to read. In this picture, I am sitting with the then 3-month-old Red Rover as we intently read his very first book. This is one of my favorite pics in spite of the fact that I am wearing overalls LOL.
Both my parents are avid readers. I remember one summer vacation where my mom had her nose in a James Michener book the entire time. I kept wondering why she was reading about Hawaii when we were in San Diego. Then, I think back on when my dad accepted a job in Europe. He would be working with more than 20 different countries. So, what was the first thing he did? Bought a stack of historical books on those places, so he would be prepared. I don't think I saw him without a book in his hand for the year leading up to the assignment and the two years he was there. Ask him any question on European history and politics and culture, etc. and he can answer it for you!
I fell in love with reading in my early teens when I discovered
The Adventures of Huckleberry Finn
.
The readers in my family don't stop with my parents. My in laws are avid readers. And, my grandma was in the middle of not one, not two, but three different books the day she died. On average. she read a book a day and was one of the most well-read women I know.
I wonder if Miss Havisham was well read!
I am grateful for having reading in my heritage. I appreciate good literature and consider it a blessing to be surrounded by good books. I am thankful to live in a country that encourages reading and holds the freedom of speech in all forms, especially the written form, near and dear to its heart.
I love
East of Eden
. Steinbeck is one of my favorite authors and this book features my favorite chapter in all of literature.
Today I belong to two book clubs that meet monthly. I am constantly discovering new authors, genres, and favorite friends in the characters I read. My recent love? All things Kingsolver. Haven't read anything by her. Run. Skip. Hop. Fast. But, get yourself to a bookstore and start with The Poisonwood Bible. Then, buy everything else you can get your hands on. She's worth it!
Wanna know a bit more before you put aside your blogging for this baby? Read my summary of this book here:
The Poinsonwood Bible
.